Style Icon and Fashion Goals
From the signature Little Black Dress from "Breakfast at Tiffany's" to a bathrobes Audrey Hepburn always looked classy and elegant. Putting the famous expression "less is more" forward, Hepburn demonstrated how simplicity is pure elegance.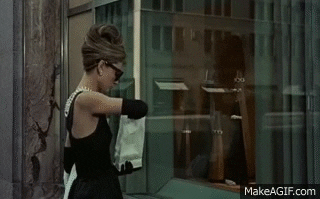 Her heart of Gold-
Hepburn used her fame and fortune to help change the lives of the less fortunate. She took a huge step back from being in the spotlight and from the screen to focusing on changing the world and giving to others.  Hepburn became a UNICEF Goodwill Ambassador during the 1980s and 1990s and traveled to countries such as Asia, Africa and South America.
Her wisdom
It is quite obvious that Hepburn is drop dead gorgeous but she is not only a woman of looks, her wisdom and confidence as well as grace inspires many today, myself included.
 "Nothing is impossible, the word itself says 'I'm possible'!"
"A quality education has the power to transform societies in a single generation, provide children with the protection they need from the hazards of poverty, labor exploitation and disease, and given them the knowledge, skills, and confidence to reach their full potential."
The influence she has on Hollywood and Modern Cinema
Actors and actresses from the Golden Ages of Hollywood in particular Audrey and Marilyn Monroe, have inspired and changed modern cinema. Homages, characters, and references have been based and inspired by Audrey, for example GW's Gossip Girl has many references linking the character Blair Waldorf to Audrey. Some episodes play homage to the film's she stared.
Her idea of beauty
Hepburn denied society's idea of beauty and created her own by celebrating her uniqueness and herself. During the same period, Icons like Marilyn Monroe were perceived as the definition of an "attractive woman". Hepburn embraced the characteristics that made her different, her dark features and her own inner beauty.
Get Audrey Hepburn's style:http://www.whowhatwear.com.au/audrey-hepburn-style-get-her-look-2014
Audrey Hepburn Makeup Tutorial
Gossip Girl and Audrey Hepburn references/ homages: https://www.youtube.com/watch?v=iv6byCXJZ3Q 
Blair's Breakfast at Tiffany's Dream
Comparisons between Breakfast at Tiffany's Opening Sequence and Gossip Girl Blair's dream S1 Ep4 
Comparisons between Blair Waldorf's dream sequences and characteristic throughout Gossip Girl  and films staring Audrey Hepburn, through film stills
 Vogue's issue and gallery on Audrey Hepburn
Audrey as a UNICEF Ambassador  http://www.unicef.org/people/people_audrey_hepburn.html
Other Blogs: https://literaturesalon.wordpress.com/2012/05/03/why-we-still-love-audrey-hepburn/